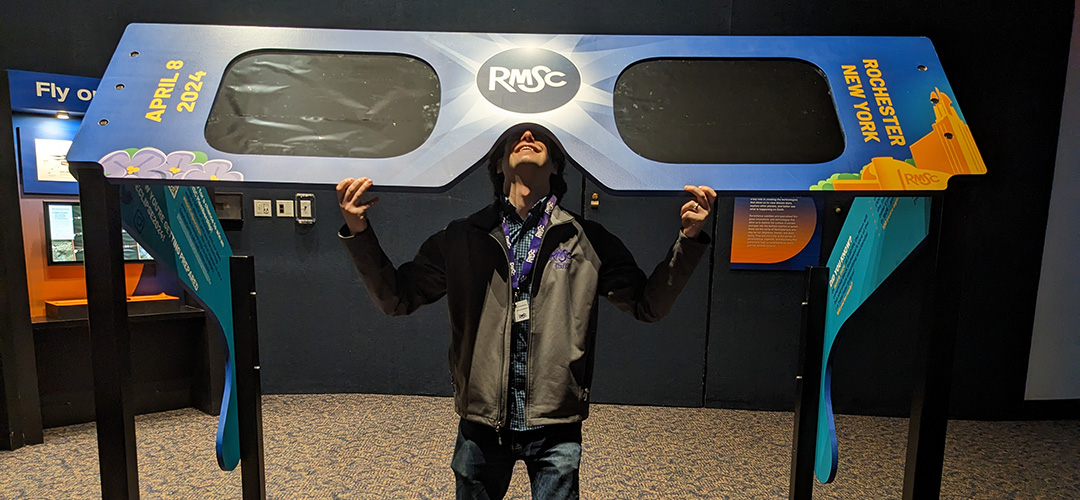 Interview: Dan Schneiderman from Rochester Museum and Science Center
By Omar Vera September 25, 2023
The first edition of our Stories from the Path initiative features Dan Schneiderman, Eclipse Partnership Coordinator of Rochester Museum and Science Center
Rochester, New York constitutes a pretty tiny part of our universe. However, on April 8, 2024, it might just be one of the coolest places to be. Its residents will join the millions of people along the path of totality to gather under the shadow of a total solar eclipse. And Dan Schneiderman is committed to ensuring it's a memorable experience for him and his neighbors.
As the eclipse partnership coordinator at the Rochester Museum and Science Center (RMSC), Schneiderman has, for a few of years now, played a central role in ensuring that Rochester is prepared for the big day. By partnering with Rochester's city agencies and school districts and launching an ambassador program reaching local community organizations, businesses and municipalities, Schneiderman and RMSC are spreading the word about the eclipse throughout town. Their work has even guided other museums and science centers across the path of totality working to ensure that everyone in their area knows about the eclipse, knows how to safely view one and can experience this event in community with each other.
We recently spoke to Schneiderman about his work. The transcript below has been edited for clarity.
Tell us a bit about yourself, Dan.
I'm Dan Schneiderman, the Eclipse Partnership Coordinator here at the RMSC. My entire job at the museum is the eclipse. Since 2019, I've been helping out with a larger stakeholder task force and have been thinking about the eclipse here in Rochester since 2017. But it was in 2019, when I attended one of the meetings held by the museum, that eventually led me to being hired at RMSC to work on the eclipse.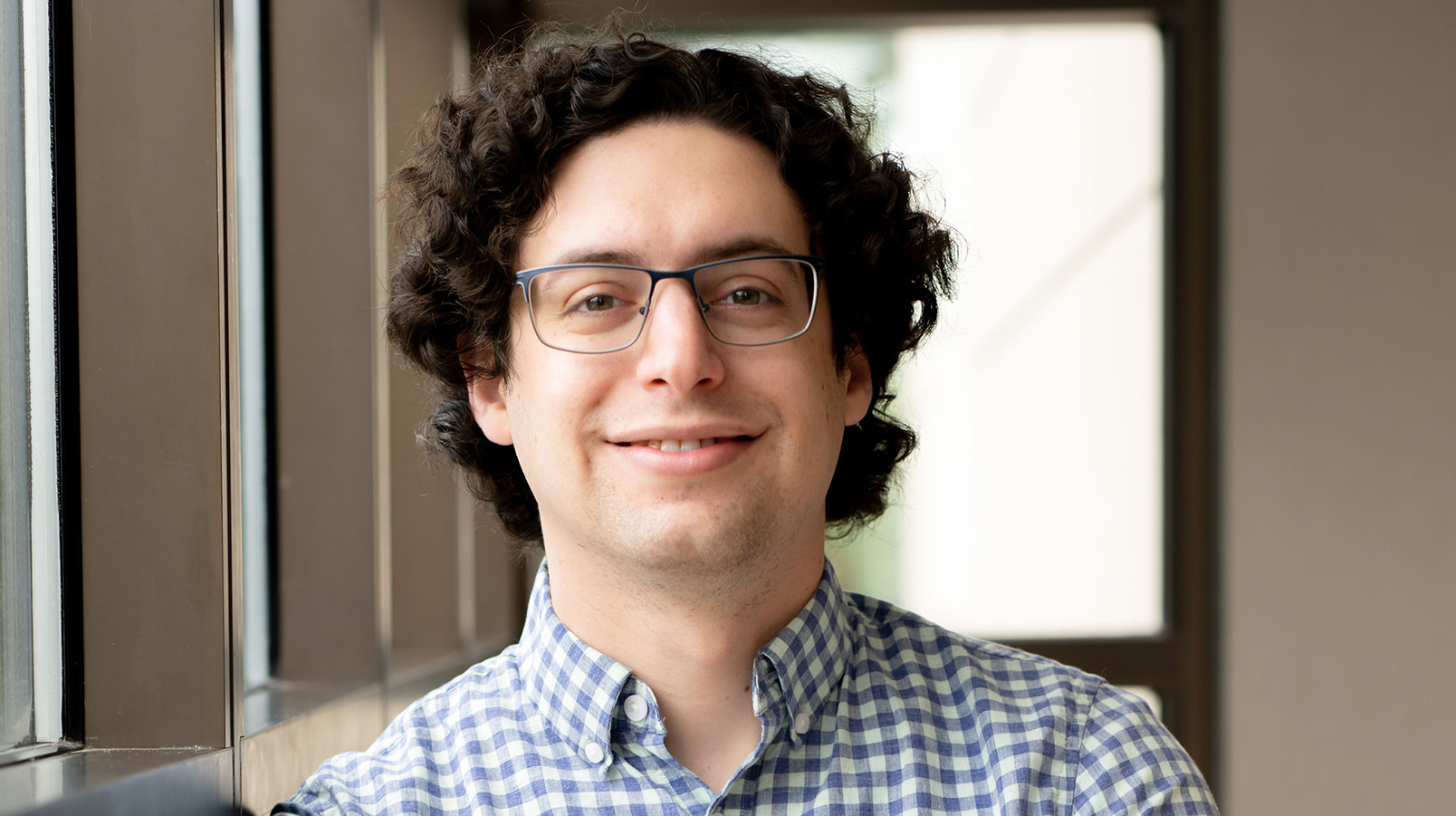 What's your favorite memory of the sun?
I remember the 2021 partial solar eclipse, which took place at sunrise on June 10. I was lucky that my family had come out to the event location in Maryland that I was managing for the eclipse and I got to enjoy it with them. I also remember that time because my wife was pregnant, and we hadn't told our families yet. In the back of my mind, I had already figured out how old my daughter would be for the 2024 eclipse, but I couldn't quite share it with my parents. We would tell them a few days later, but that memory comes to mind.
What is it about organizing around the eclipse in Rochester that has been important to you? What's unique about Rochester?
I have always loved the event organizing space in this city and particularly, the interplay between science and community here. For years I've been producing science-based events here in the greater Rochester region, and organizing events around the 2024 eclipse has been a culmination of everything that I love. I love immersing myself in the community and collaborating with as many people as possible to create something special. I've coined the phrase "literally everyone under the sun is a stakeholder." I am always thinking about how to get the word out about the work we do.
It has involved a lot of evaluation of our local demographics and thought around how to best reach the different community groups across Rochester. The science aspect is really interesting too —being able to share that love of the stars and outer space is an absolute joy.
What is the broader role that RMSC is playing around the eclipse?
Institutionally, we've been the conduit to help connect different organizations. We've also been acting as a leading voice to heavily promote public safety and education at events and festivals. We have several pairs of working giant eclipse glasses, and we've been getting people to use them to view the sun safely.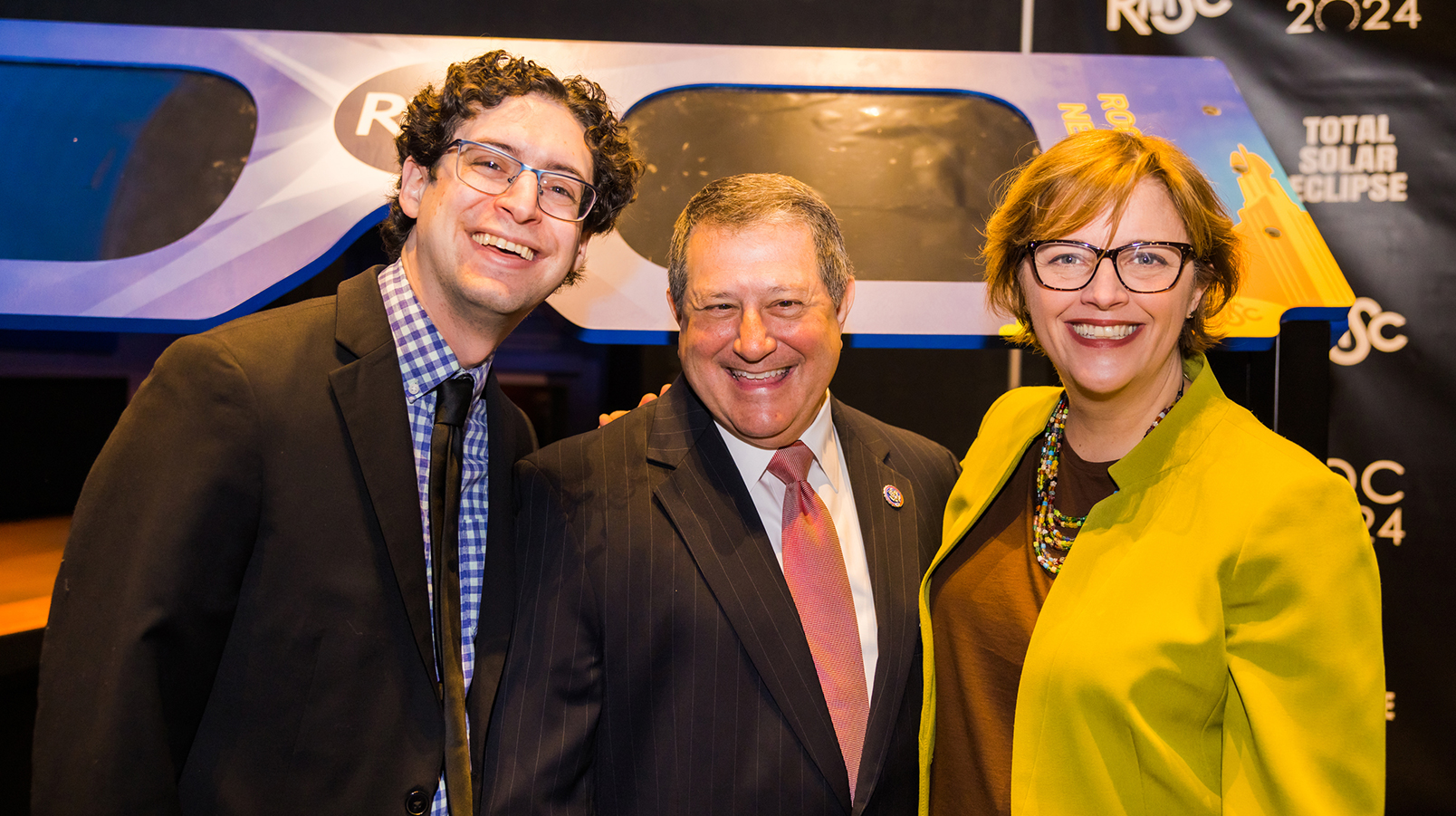 Across Rochester, there are people who might not necessarily view themselves as science curious. How is RMSC hoping to engage those people?
It's been one of the core pillars of our eclipse work because we know that the next total solar eclipse to cross the continental U.S. will be more than 20 years from now. But for New York, the next total solar eclipse is 55 years away, and for Rochester, 120 years. In many ways, this is our only chance, and we want to make it as accessible as possible.
A big part of the outreach has been through our ambassador program. We've been able to bring on over 50 organizations representing the nine counties in Rochester, many with members without a science background. Some might have enjoyed science as a kid or viewed science from a different lens. But hearing their stories and how they connect to science is important, and nurturing that interest is too. We've provided our ambassadors with telescopes and solar filters so they can look up during the day and see the sun. It's very interesting seeing everyone's reaction — their faces light up. As we get closer to the date of the eclipse, we'll begin to see adults become kids again, and take up that fun and curious energy.
What are some examples of community organizations that RMSC has been reaching out to? Do any of them stick out to you?
Partnering with senior homes and hospitals has been interesting because it's an industry I haven't worked with extensively. We've also been working with Rochester Accessible Adventures, an organization working to create a culture of inclusion for people with disabilities to recreation, sports and tourism, to run groups for people who have autism or sensory issues. We've also been partnering with different language groups and religious communities, which has been something completely new for me. We're currently working with the Ganondagan, who are a part of the Seneca nation and a member of our ambassador program. Some of our ambassadors who represent the Islamic Center of Rochester showed us that there is a specific prayer to be said during a total solar eclipse. We've also translated our informational postcards into Spanish and plan on having Spanish voice-overs for our main advertisements. In addition, Rochester has one of the largest Deaf populations in the U.S., so we're making sure that everything is fully accessible; all videos are captioned and sign language interpreters will be available onsite and at all meetings. Our goal is to make our materials and events as accessible to as many people as possible — no matter what language they use.
Other rabbit holes I never thought I would go down include working with the DMV to promote safety around the eclipse through the city's DMV locations. I've even had phone calls with our local cemetery to discuss the potential of adding an astronomy-themed tour to their normal tour offerings. I've learned that there is no shortage of avenues to explore with our outreach.
The diversity of RMSC's outreach is incredible, and I'm sure it's keeping you all busy. What are the next few months looking like for RMSC?
We're doing a lot more outreach. We'll be attending a few more festivals, especially as the annular eclipse will be partially visible here in Rochester in October, so we'll have our own viewing events for that. I'm imagining watching it with a hot cup of spiced cider. Additionally, the coming months will be full of talks as well as glasses distribution. We're ordering half a million glasses, so it's a lot of logistics to manage.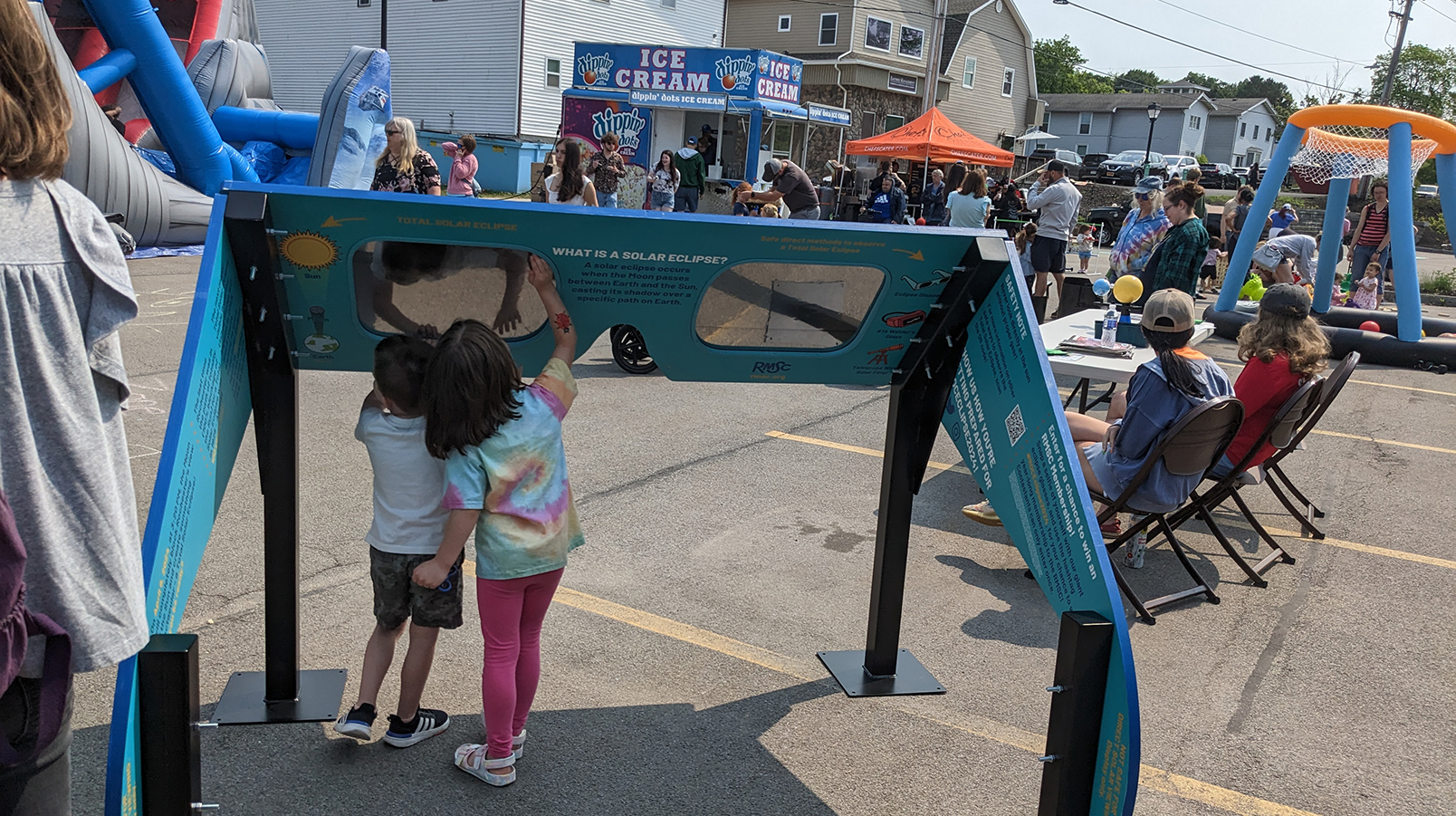 Would you mind speaking on glasses and eclipse safety?
Safety is paramount to our planning efforts. If you are in the path of totality — as Rochester is — you must know exactly when the eclipse begins, how long it lasts and the exact moment of totality.
If you are going to look up at the sun at any point during the eclipse — except during totality — you must wear your eclipse glasses or solar viewers. Sunglasses will not protect you. We are urging residents to find certified eclipse glasses from trusted manufacturers, as some glasses sold online are fake. We're encouraging groups viewing the eclipse to designate a timekeeper who can alert the group when to remove glasses for the moment of totality.
Thanks Dan, that's very important to note. Thinking about what we should be doing leading up to and during those moments, what does April 8, 2024, look like for RMSC?
I'll be practically living at the museum by that point. We'll be hosting a multi-day festival the weekend leading up to the eclipse. On the morning of Monday April 8, we'll have telescopes for solar viewing, and we're hoping to bring in some big-name speakers and musicians to entertain and excite the crowd. As we hit first contact and the moon starts to cover the sun (beginning around 2:07pm here in Rochester), a lot of our programming is probably going to stop. We'll begin directing everyone outside to enjoy totality.
My hope for that day is that we can play music after totality, have people record their stories, and display a giant map where people can mark how far they traveled. At the end of the day, I just want everyone outside, covering our entire grounds, looking up and embracing the moment.
What do you personally plan on doing in the exact moments of totality?
I'm pushing for RMSC to have a greenroom for employee families, so that as we get close to totality, we can meet with them and enjoy totality together. I want to be next to my wife, and I want to be holding my daughter during totality. Whoever you're with that day, those will be the people you will always remember being next to during the eclipse. And I want all of my coworkers to have that same opportunity as well.
Is there anything after the eclipse that you're looking forward to? How do you feel the eclipse may change Rochester and affect its communities?
I'm really looking forward to already having a community with telescopes, and continuing to work with them. We may not know what will pop up, but the fact that we've built this network is exciting.
A lot of us lost contact with each other during COVID, but the eclipse has opened up so many new doors and new partnerships. For the first couple of months afterwards, I'll be documenting as many stories as possible because everyone's perspective is different. One thing that comes to mind, even already, is when I was at the grocery store chatting with the cashier about the eclipse, and she said, "You know, that would be a good time for my family to come to town to spread my mother's ashes." And that just kind of hit me hard. This isn't just a time to celebrate the eclipse, but a time for people to come together and celebrate moments, both happy and sad. My goal will be to document these stories, keeping them and sharing them for future generations.
What advice do you have for people who are organizing around the eclipse in their own communities?
A lot of it comes down to communication and working directly with the community — going to where they are, meeting them at their locations and communicating the experience. The eclipse has such a personal aspect, but you have to think about both the individual and the community at the same time. And, of course, making sure that you think about accessibility from the start.
This profile is part of our Stories from the Path series, where we highlight the people working in their communities to prepare for the 2024 total solar eclipse.